On-board navigation systems in electric vehicles (EV) need to consider not just vehicle information such as state of charge and battery capacity, but also external factors like road topography, geometry, weather, traffic, and even drivers' individual driving patterns. Unlike internal combustion engine (ICE) vehicles, charging stations are not yet on every city corner, so ensuring suitable charge points are available is critical for EV drivers to ease what is known as range anxiety.
HERE Technologies has been chosen by Lotus to deliver integrated navigation services to the recently launched Eletre, the automaker's first pure electric Hyper SUV, in a collaboration that makes the Eletre the first vehicle in Europe to offer EV routing, range assistant and predictive routing. The Eletre is designed to mitigate range anxiety while also supporting a premium driving experience.
Addressing range anxiety
Serino Angellotti heads up the Electrics, Electronics and Digital User Experience at Lotus Tech Innovation Centre in Raunheim, the German R&D centre of Lotus focusing on the development of its lifestyle vehicles.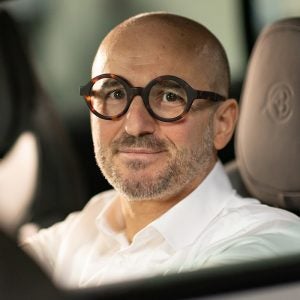 "Specifically at Lotus, we believe that driving should be pure pleasure," explains Angellotti. "For that we need to mitigate anxiety connected to range and charge availability. The driver can trust that the on-board system will provide them with correct and appropriate information when needed. This collaboration with HERE permits us to integrate this type of technology into our Hyper SUV, providing our customers the pleasure of driving an EV, with all the benefits of going green, but with less range anxiety."
Marvin Ruf is Senior Account Executive in Automotive and Emerging Business, at HERE Technologies, based in Berlin. Eletre's navigation experience is provided by HERE Navigation, a software application equipped with EV routing and range assistant.
"Navigation for EVs is definitely more complicated than it used to be," says Ruf. "The system is considering a lot of factors such as the SoC (state of charge) and battery capacity, as well as many external factors such as road topography, traffic data, and individual driving patterns from the driver. All this information is used to create a profile that feeds the navigation engine."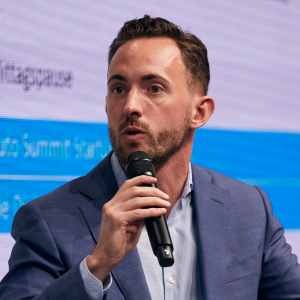 Ruf also points out that the HERE solution cuts automotive development and lifecycle costs by offering innovative and turn-key functionalities, including search, real-time traffic updating, turn-by-turn voice guidance and predictive analytics.
As well as easing range anxiety, predictive routing learns individual driving patterns, such as departure times, destinations, and routes, to offer more personalised journeys. For instance, automatically offering alternative routes or departure times based on real-time traffic updates. Charge anxiety is also largely mitigated by using predictive capabilities that help drivers quickly find a suitable charger and avoid unnecessary waiting times.
Seamless integration and lifetime updates
For a successful collaboration, seamless integration of HERE Navigation with the Lotus operating system was crucial. Angellotti explains: "As part of the Hyper SUV experience we have made a great effort to make the navigation system seamless. We also wanted the system to learn the habits of our customer, in an appropriate way, to deliver the right experience while driving."
"HERE Navigation is equipped to really provide all the services needed for a premium vehicle," Ruf adds. "It is also a modular system, so it has been made to adapt within the lifecycle of the vehicle. Customers are not just willing to accept a product that is going to stand still, but demand continuous development over the entire lifetime of the vehicle."
Angellotti agrees and points out that this extends to the next owner of the Lotus too: "We strongly believe that we should be able to update the product along its lifetime. Our relationship with our customer is not finished when we sell the vehicle, we continue [to stay connected] day-by-day. When working with HERE we defined a road map of what we see as essential. Our customer has a voice, and we want to maintain this relationship, giving fresh updates on the product and improving the experience."
The digital cockpit experience
Currently, some of the industry's most advanced digital experiences are found in EVs such as the Eletre. HERE sees the next generation of digital cockpits as having more personalisation and advanced connected services which can be tailored to the driver's needs over the entire lifecycle of the vehicle. This will include navigation, but also incorporate safety features and modern conveniences to make the driver's day-to-day life easier.
The digital cockpit experience will be increasingly a key factor in buying decisions and machine learning will help you get to know your Eletre better, says Angellotti.
"Our product is beautiful, and people fall in love when they see the car for the first time," he says. "Then, they enter the car, and alongside the traditional luxury of the Lotus is the digital experience. Simplifying the journey, reducing the number of interactions where unnecessary, making the system more intelligent and predictive.
"Your time is valuable, so everything around the digital experience, and connected with the physical world, is aimed at having a luxury experience. Supporting the journey with information prepared in advance, such as pre-heating because it was cold overnight. These touches may be small but go on to enhance the quality of the Lotus experience."
Moving forward, both Lotus and HERE see improvements to the digital cockpit experience as key. Lotus, through its powerful operation system Hyper OS, enables high fidelity 3D maps, with location technology playing an important role in safety. For example, the navigation system has seamless integration with the ADAS (Advanced Driver Assistance System).
A unique collaboration
The collaboration between Lotus and HERE started at the earliest stage of the Lotus Eletre's development cycle. "We decided that our products needed to be equipped with the top-level technology for the digital experience and we were also looking for navigation," Angellotti says. "HERE understood that. They have not only an excellent product, but a great mentality to design something for our EV products that also fits in with our other objectives."
Angellotti comments that Lotus and HERE enabled each other to make a better product, pushing at the boundaries of what is currently possible with the technology: "I was part of this kick-off, the wish to do something special, unique. To have the energy, the passion, the trust, to overcome any difficulties…go further, push the boundaries in both directions."
Ruf agrees: "Yes. Serino is a very inspiring person and it's fantastic to see him do his magic and see him work. I can see this ambition within the Lotus team. They are demanding a lot, but this is exactly what a brand [like Lotus] needs to do when they know exactly where they want to go. On the pioneering side, looking at technology and advancements, this is where HERE as a company also has its best product match."
Angellotti sums up the collaboration by noting it is HERE's ability to customise the product, specifically for the Lotus customer, that is key. "I think that we have been going on a great journey together," says Angellotti, "and we learn from each other every to make the best EV experience for the drivers."
Ruf concludes: "We are engaging more and more with the customer and letting them take part in creating the road map themselves, because this is where you can really help shape the industry, instead of just being a follower of technologies as others might do."
For more information on HERE Technologies, and the collaboration with Lotus, download the paper below.