European new passenger car registrations rose 16% year on year to 960,191 units in the month of April, the ninth consecutive month of growth.
"These results are directly related to the easing of supply chain pressures which has increased the availability of new cars," JATO Dynamics said. "On top of this, demand has continued to rise in response to the push from OEMs to widen their EV offering."
BEVs (battery electric vehicles) accounted for 13% of total volume, up 3%.
JATO chief analyst Felipe Munoz, said: "Tesla and MG fuelled the growth of BEVs last month. Consumers appear to be responding well to wider competitive offers and good deals presented by the two OEMs."
Volkswagen Group led the BEV rankings with an increase of 98% to 31,900 units, more than double the 14,200 registered by Tesla, up 865%. Stellantis followed but lost ground due to a significantly smaller increase in BEV volume of 5%. Geely, and the remaining Chinese manufacturers combined, also performed well registering 8,334 and 7,114 units respectively.
Stellantis, VW Group, and Geely also led registrations of PHEVs (plug-in hybrid electric vehicles). Demand for these remained stable with 71,960 registrations.


Marginal share for the Chinese
Last month, vehicles manufactured in China accounted for just 3.4% of all new vehicle registrations at 32,000 units. This included vehicles produced both by Chinese OEMs and vehicles produced by western OEMs in China such as the BMW iX3, Smart #1, Polestar 2, Dacia Spring and Citroen C5 X.
Munoz said: "In contrast to the emerging narrative, China's carmakers are gaining traction less quickly than many have predicted. While analysts anticipated a more dramatic untick in demand, there remains a need to increase awareness and shift perceptions for these vehicles to become popular with consumers."
SUV growth continues
Last month, SUV registrations totalled 492,000 units for a record market share of 51.3%, up 0.7%. VW Group, Stellantis, and Hyundai-Kia dominated the segment. The model ranking was led by the VW T-Roc, Toyota Yaris Cross, Dacia Duster, Kia Sportage and Hyundai Tucson.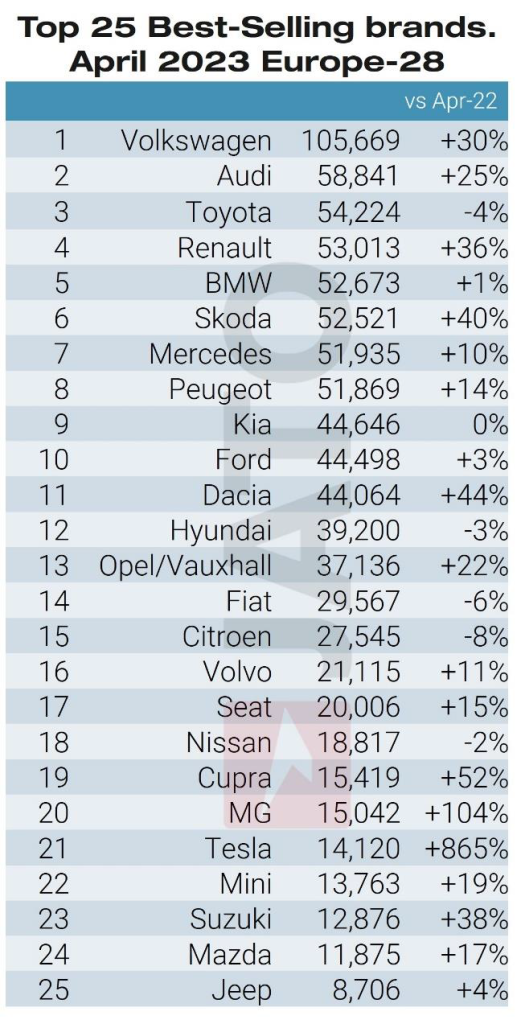 Dacia's Sandero leads in terms of growth rates
The Dacia Sandero led the overall model ranking with 18,700 units sold, up 44% on last year. The hatchback was the most registered car in Belgium and Ireland and the second most poular model in Portugal and Spain. Dacia also saw a 147% increase in registrations of the Jogger with 7,237 units, boosting brand volume 44%.
The Tesla Model Y was 17th with 10,600 units, retaining its position as the most popular model year to date. Registrations of the MG ZS increased 125% to 6,930 units while the VW ID.4 and Renault Megane rose 125% and 157% respectively.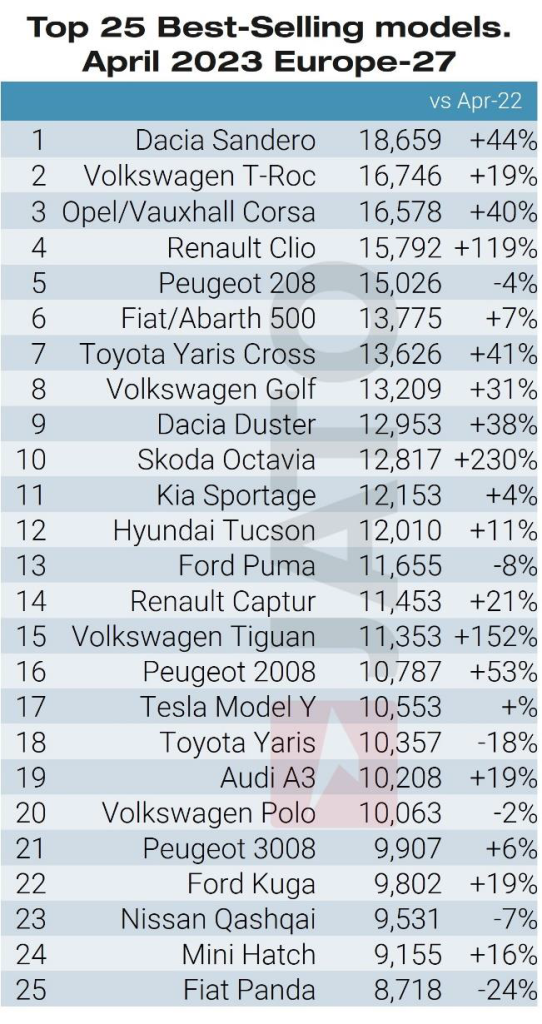 Among the latest launches, Renault registered 6,135 units of the Austral while MG registered 4,174 4s, the sixth best-selling BEV in April. Alfa Romeo registered 3,235 Tonales, accounting for 71% of its volume. BMW registered 2,355 iX1s, the brand's second best-selling BEV behind the i4.